Upcoming
I'm a Speaker at the Stitch People Virtual Gathering
by Kate Anderson on Nov 02, 2020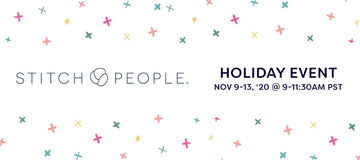 Virtual Gathering Next Week
Next week, Stitch People are having their 2nd virtual gathering -this time, it is Holiday themed- and I was asked to be a speaker for one of the days! So it looks like my thoughts from back in February came to fruition in a way. I had wondered whether I should ask if they would like me to speak. I didn't need to offer myself up - they came and asked me!
Being asked definitely was flattering but didn't change my anxiety about public speaking. I am hoping that because I won't see a crowd, I might feel less nervous about the whole thing when the time comes. So come November 11th (I'm speaking on the Wednesday - mark the calendar!), keep your fingers crossed for me or please leave me an encouraging message or funny gif either in the comments below or via social media beforehand! 🥰
I am glad I was lucky enough to be able to attend their in-person gathering back in February before the world went into lockdown from Coronavirus. It was not only a great atmosphere to be in & surrounded by, it was a nice little holiday away! It does, however, feel like a lifetime ago now. 2020 really has been brutal.
I was also an attendee for their first virtual gathering back in June, which has helped me prepare for my own talk at the upcoming gathering.
Oof, can you tell I'm nervous?
---
What is my talk about?
All things fonts, of course! Titled "All you can font and more!", I'll be talking about things such as adding festivities to your lettering, how to pair up fonts, how to use a font you've purchased (or gotten for free just for being an attendee at the gathering!) so it looks nice and answering some questions both that I've gathered myself, but also if you're a live attendee.
Some example slides from my upcoming talk
---
So what are you waiting for? There's not only going to be me speaking. The other 4 days that week, there will be other expert speakers including Lizzy & Spencer themselves. If you missed the virtual gathering in June, you're in for a great week of cross-stitchy goodness. Including a cute little stitch-along which is, of course, festive.
I can't wait for you to join me next week!