Upcoming
What's In Store For 2019?
by Kate Anderson on Nov 21, 2018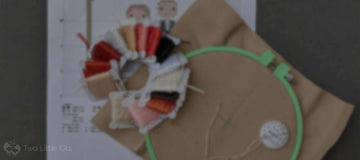 The past few months I've been busy stitching and designing. It's been a great way to relax, stretch my achey, unused design muscles both in a ridged way (customer work) and in a freeing way (designing my own patterns). I've rediscovered the flow of ideas and concepts come back to me and now I just wish there were more hours in a day!
I feel very fortunate to have taken the leap into doing this in my spare time and to have people wanting their own piece of art made by me. It's liberating and terrifying at the same time -- if that makes any sense!
---
Filming the process
I'm part of a large online group of others who also create stitch people and decided after seeing lots of questions about "realistic hair" in there that I'd film myself stitching some of my characters hair.
Creating IGTV videos to help the community of fellow stitchers with creating embroidered, "realistic" hair
I've not received much feedback on how well these videos I've done so far (two are up currently with one pending since I can't share the finished result just yet!) are helping others but for me, it's nice to be able to go back, personally, and look at how I did in the past.
Seeing how far you've come is always a good motivator!
---
---
What's in store though?
I have a series I've been slowly working on that I hope to release before the end of 2018. I'll be honest - I'm nervous about sharing it! I fear people won't be anywhere near as excited about it as I have been about making it.
The list of general pattern ideas is still a mile long and I'm planning on doing one more (hopefully final) shop re-shuffle since I'm still relatively new to Etsy and learning what does and what doesn't work for me. Again, check for that around the end of 2018, start of 2019.