Finished Pieces
Teacher Appreciation Week 2019
by Kate Anderson on May 07, 2019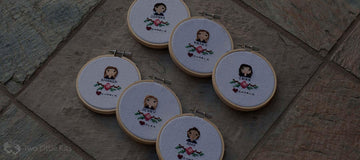 In America, the first full week of May is called "Teacher Appreciation Week". This isn't a 'thing' in Australia (although I hear it is starting to collect momentum, which is awesome) so I've embraced it -like many other holidays and traditions since we moved to the USA- and run with it.
What is it?
I quite like the idea; it's showing appreciation to the amazing men and women that take in our precious gifts of life, take care of them and help give them tools and knowledge they need to know to grow.
Last year and this year, I created stitch people versions of my eldest child's school teachers (which, quietly, this year's piece will be given as a gift tomorrow - I'm counting on the recipient not following my website or social media to ruin the surprise!) to show my appreciation for their hard work in teaching, caring and watching my gorgeous girl.
---
Therapists are teachers too!
In addition, this year I also made up gifts to give to both my kids' therapists (five separate therapists for my eldest and one for my youngest) before we had our final week last week. As mentioned in a social media post about it last week, therapists are teachers too. Don't forget about the hard work they put in!
Because we are moving next week (where has that time disappeared to?!) we wrapped up therapies so I made sure to get the 6 pieces completed and gifted out a little earlier than the official "teacher appreciation week", but who's going to tell me off about that, huh?
All the gifts were well received as anyone handmaking a gift can only wish for. I just hope they know how much I genuinely appreciate the hard work they've put in to helping my gorgeous children.