Gorgeous, custom, handmade art.
It's hard to give a personalised, unique gift nowadays, isn't it? You want to do something special for that awesome person in your life but just buying any old thing won't cut it yet again.
Why not get them something personalised and extra special? Something that they can literally hand down to their children as a keepsake or family heirloom? Something that the more you look at it, the more you can spot?
A stitch people portrait is just that thing. Let me make you a piece that they will never forget. A gift that they will be raving about to their family and friends.
Regular price
From $115.00 USD
Sale price
From $115.00 USD
Regular price
Regular price
From $60.00 USD
Sale price
From $60.00 USD
Regular price
Regular price
From $40.00 USD
Sale price
From $40.00 USD
Regular price
Gorgeous, custom, handmade art.
A custom stitch people portrait is a great way to show someone how much you care.
When can I give a portrait as a gift?
Well, I think that any occasion is a great excuse to give the gift of love and thoughtfulness -which encapsulates a stitched portrait to a tee!- but there are definitely some perfect moments in ones life that can be celebrated with one of these handmade pieces.
Gift ideas could be a milestone birthday, Christmas gift, 1st- or 2nd-anniversary present ('cotton' theme in UK or US respectively), commemorating a holiday, a new pet in the family, a pregnancy announcement, a housewarming gift, or, you know, just because. Who doesn't love a "just because" present?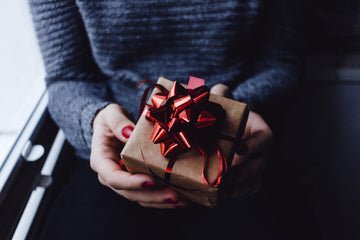 Different types of pieces
Regular Portraits
This is my most popular type of stitch people portrait to complete because it is the most versitile to stitch up.
A family portrait? ✅
A group of friends? ✅
Grandparents and grandkids? ✅
The family menagerie of pets? ✅
You favourite group or band of people? ✅
It really can be anything you could think of, and for any gifting reason.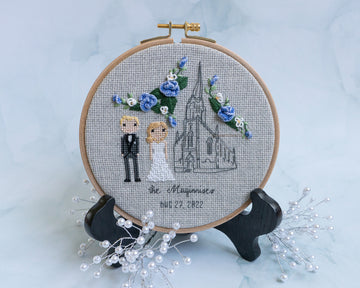 Wedding Portraits
A specific subset of a group portrait and yet, such a important one. This can include a wedding gift, engagement present or -and most commonly- a 2nd anniversary gift (which is known as the "cotton" gift to give).
This type comes as a minimum of 2 people with florals, but it can easily be expanded upon as you'll see from my previous work.
Holiday Ornaments
A small family keepsake -which is an excellent annual treasure to have made- depicting your growing and ever changing family unit.
It can include your immediate family, pets, a grandparent's grandchildren, a special building (IE: "Or first home!") or a baby's first Christmas, just as a few examples.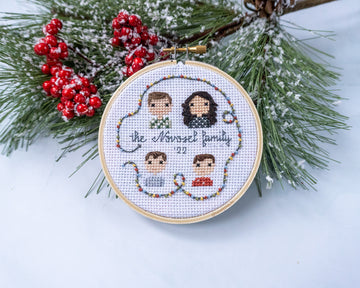 Final notes
All custom, handmade pieces are sold via my website, right here! I use Shopify which is 100% safe and secure. If you have any questions or concerns before placing an order, please contact me - I'm happy to help.
I cannot wait to work with you on a portrait piece. Get in touch today and lets chat!
💌 Kate