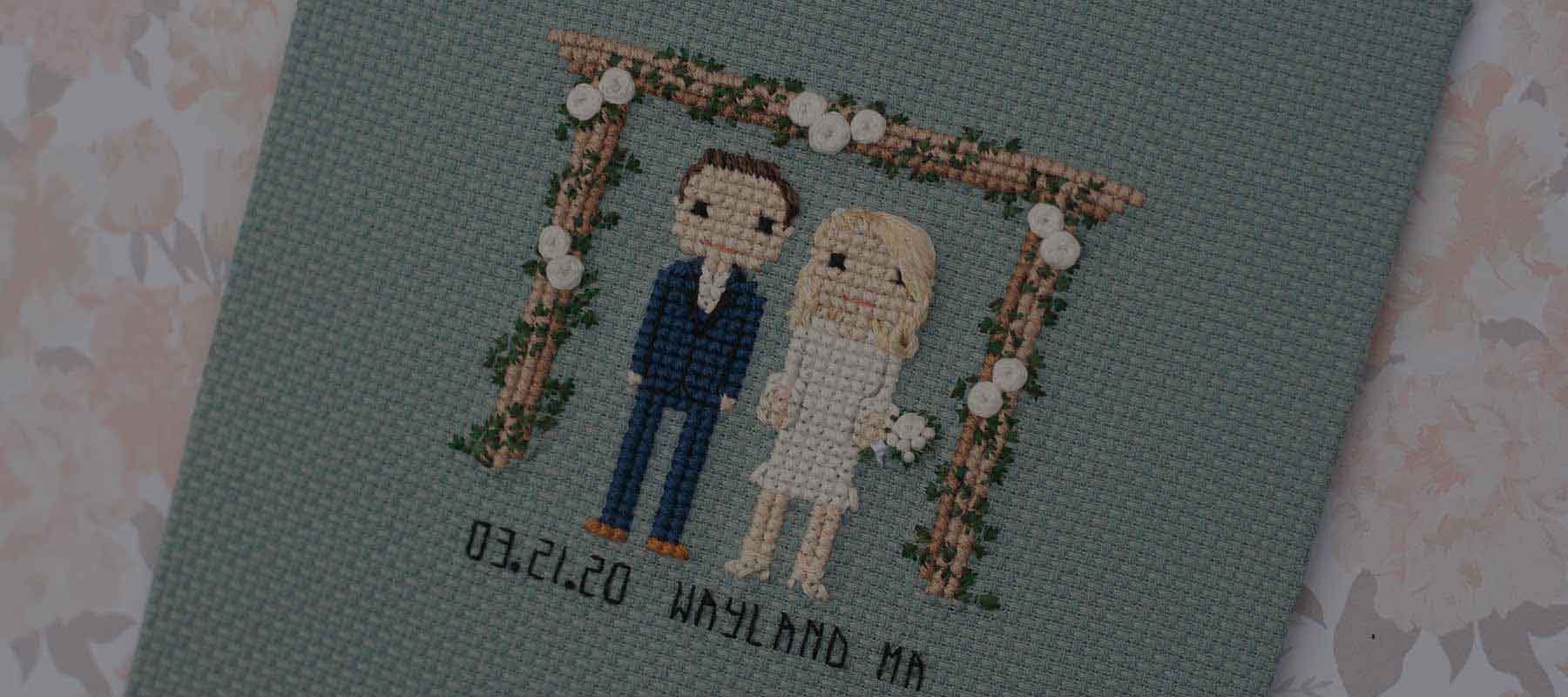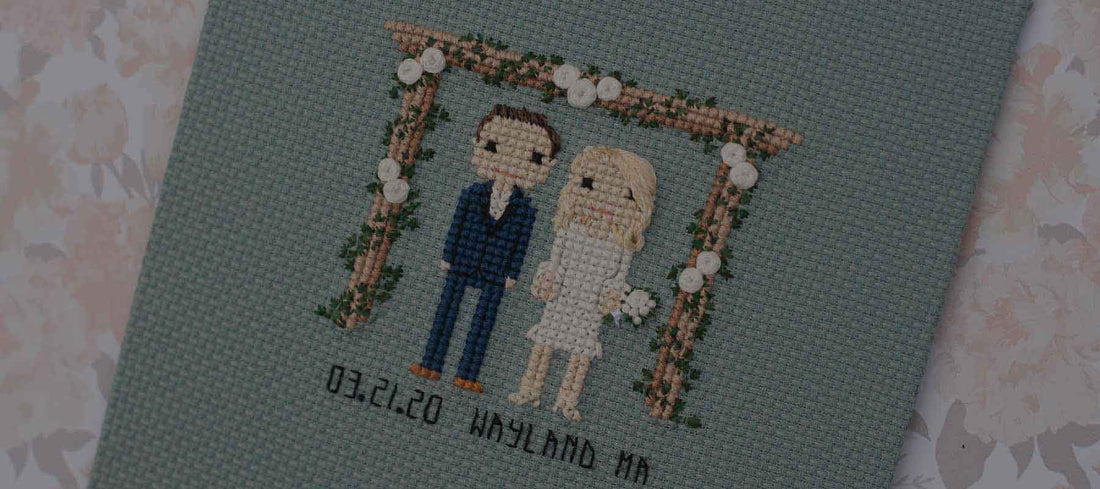 Stitched memories.
Gorgeous, custom, handmade art.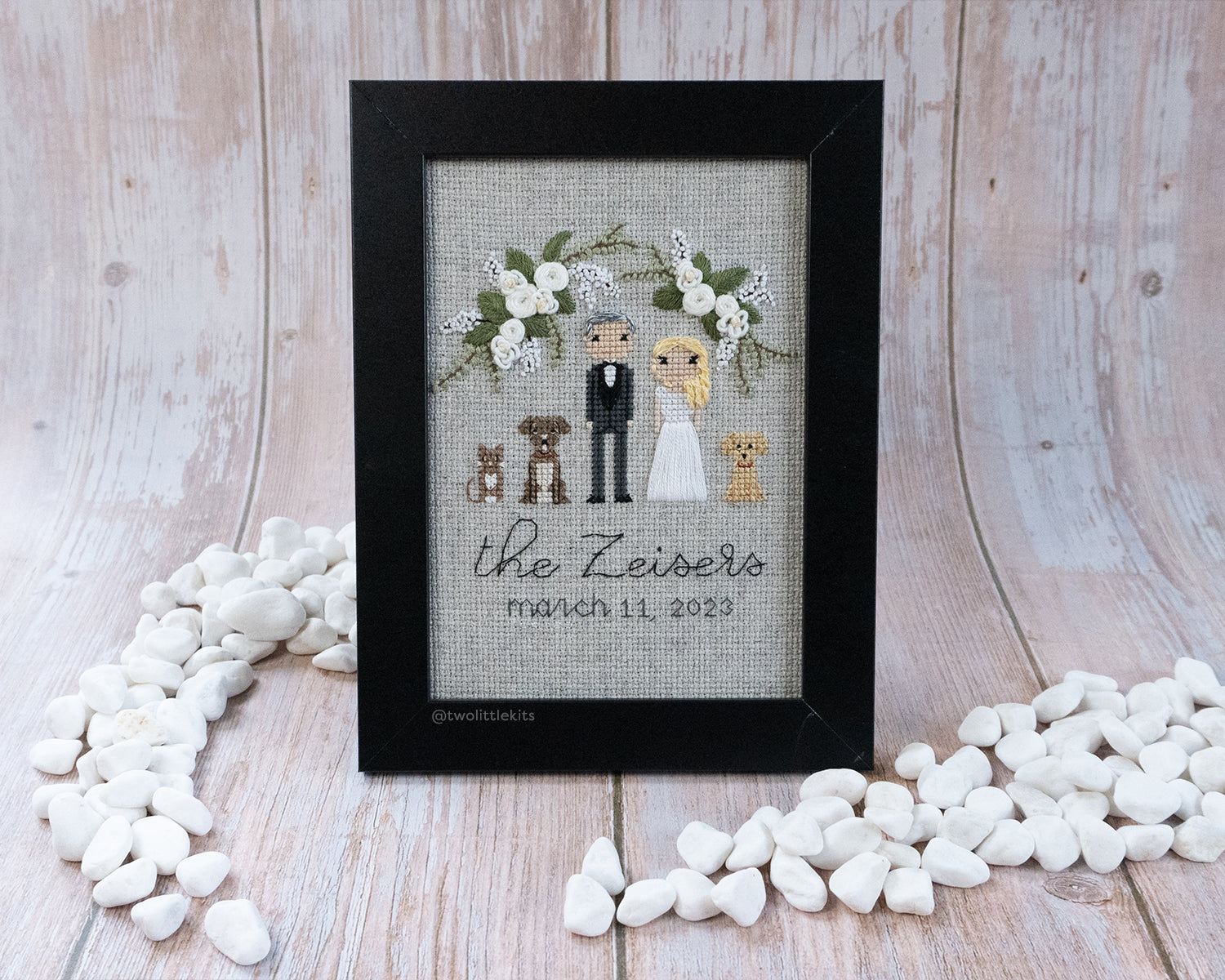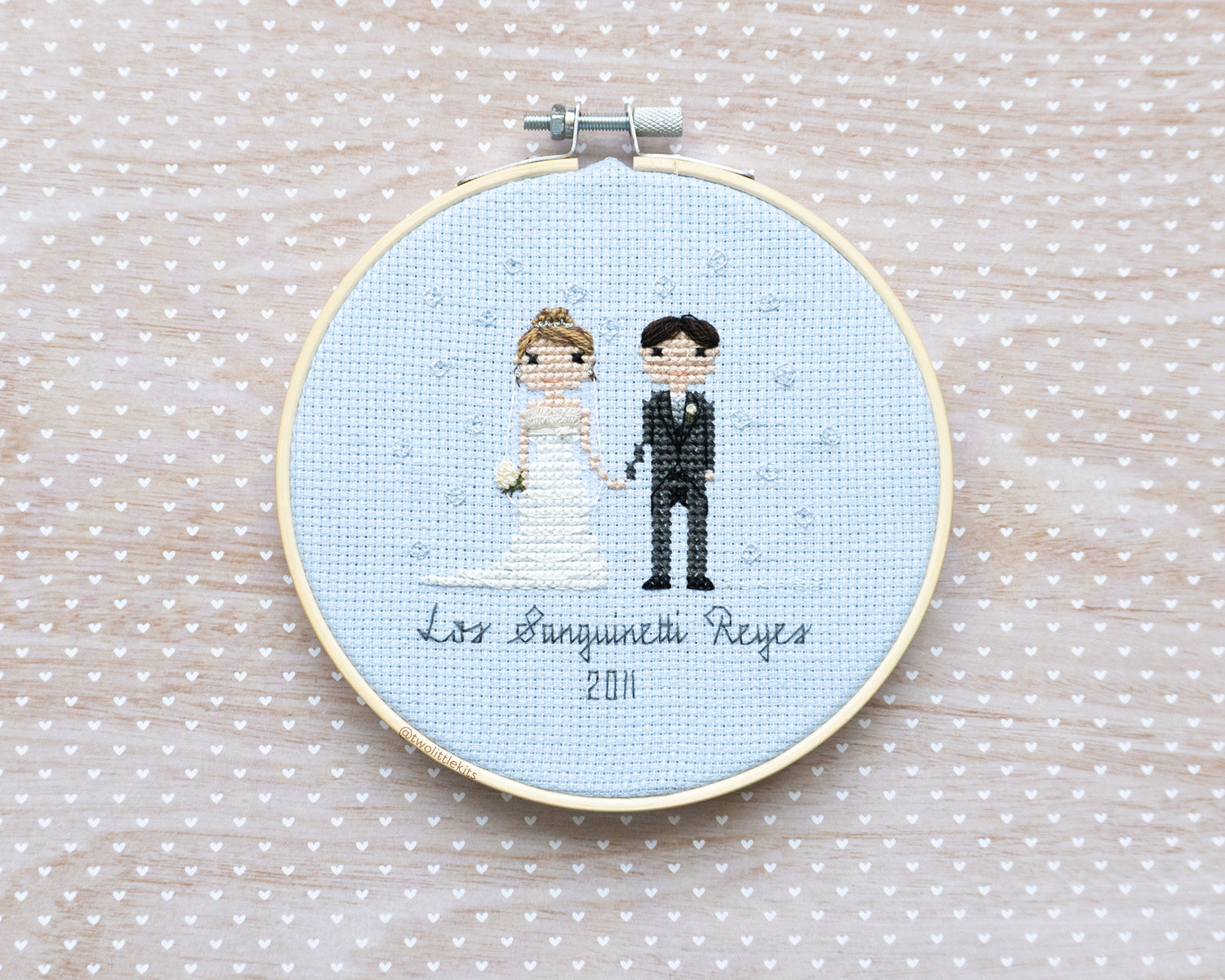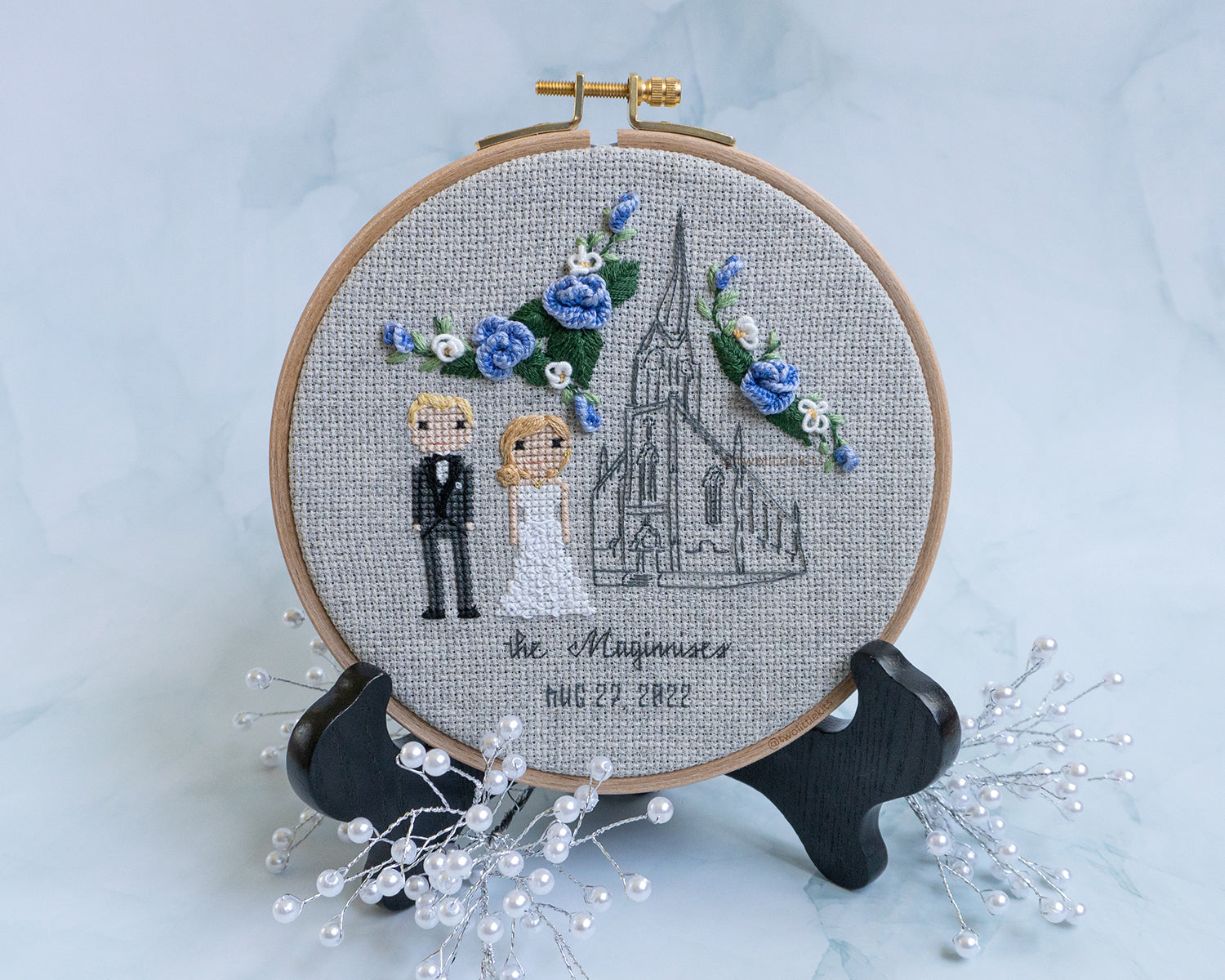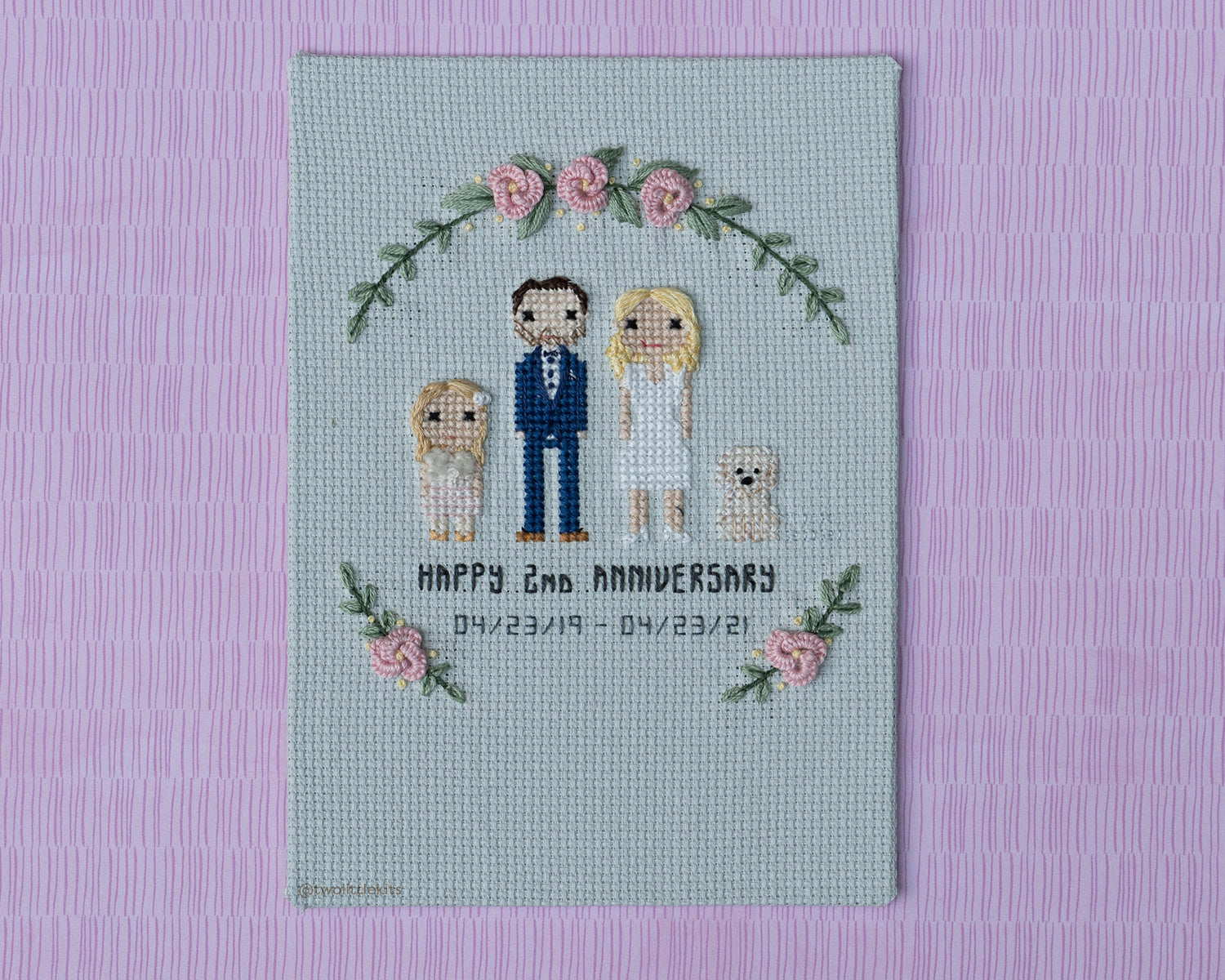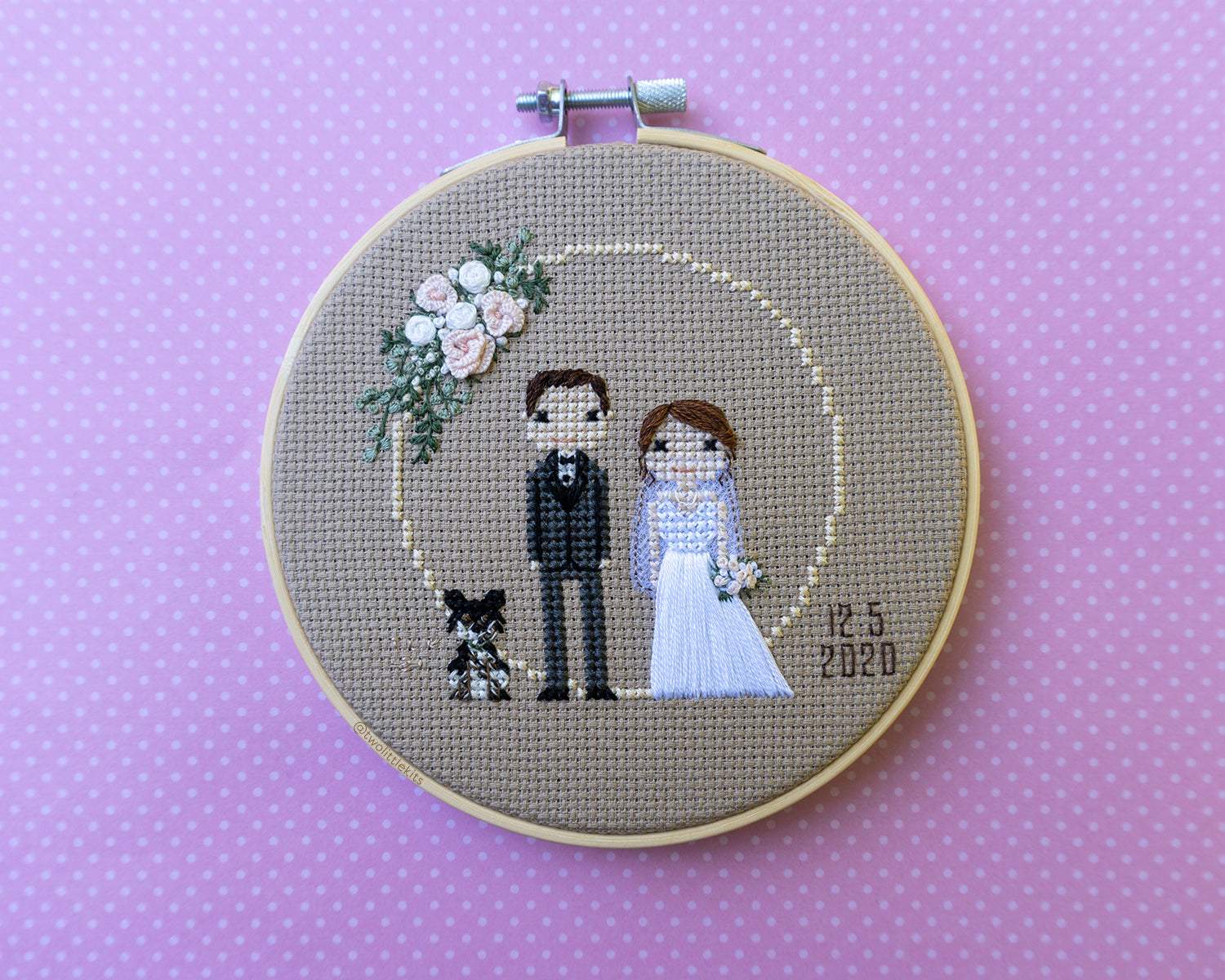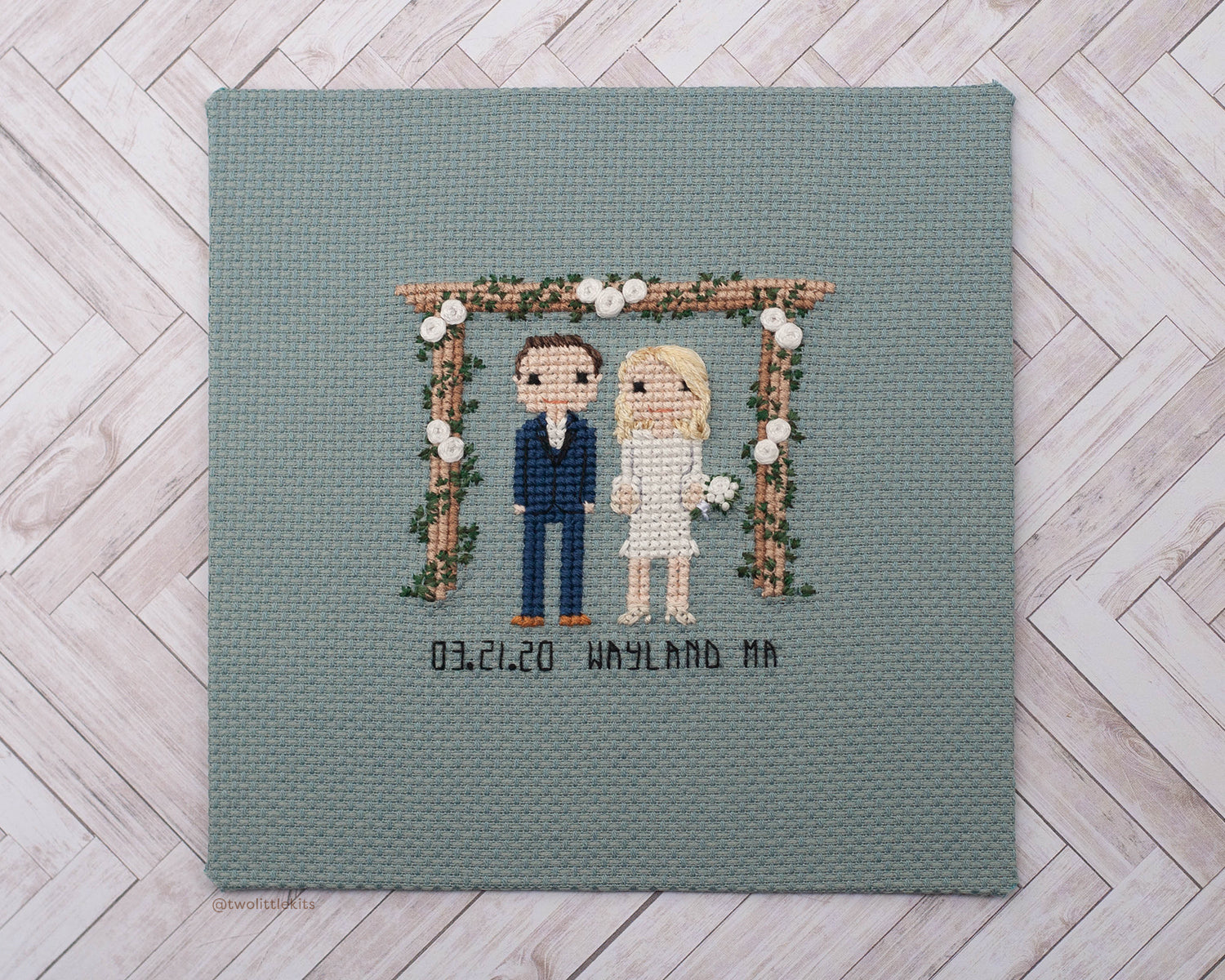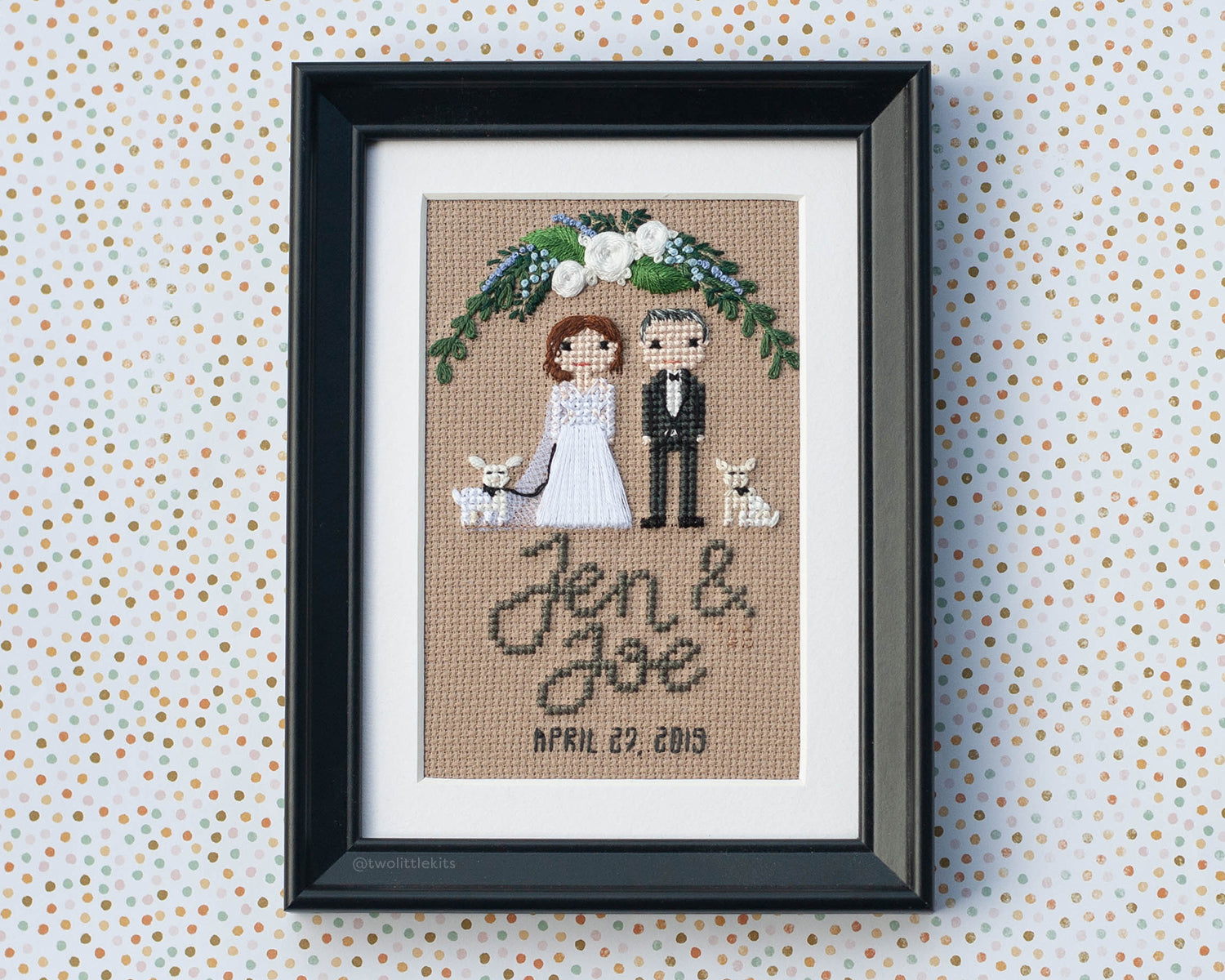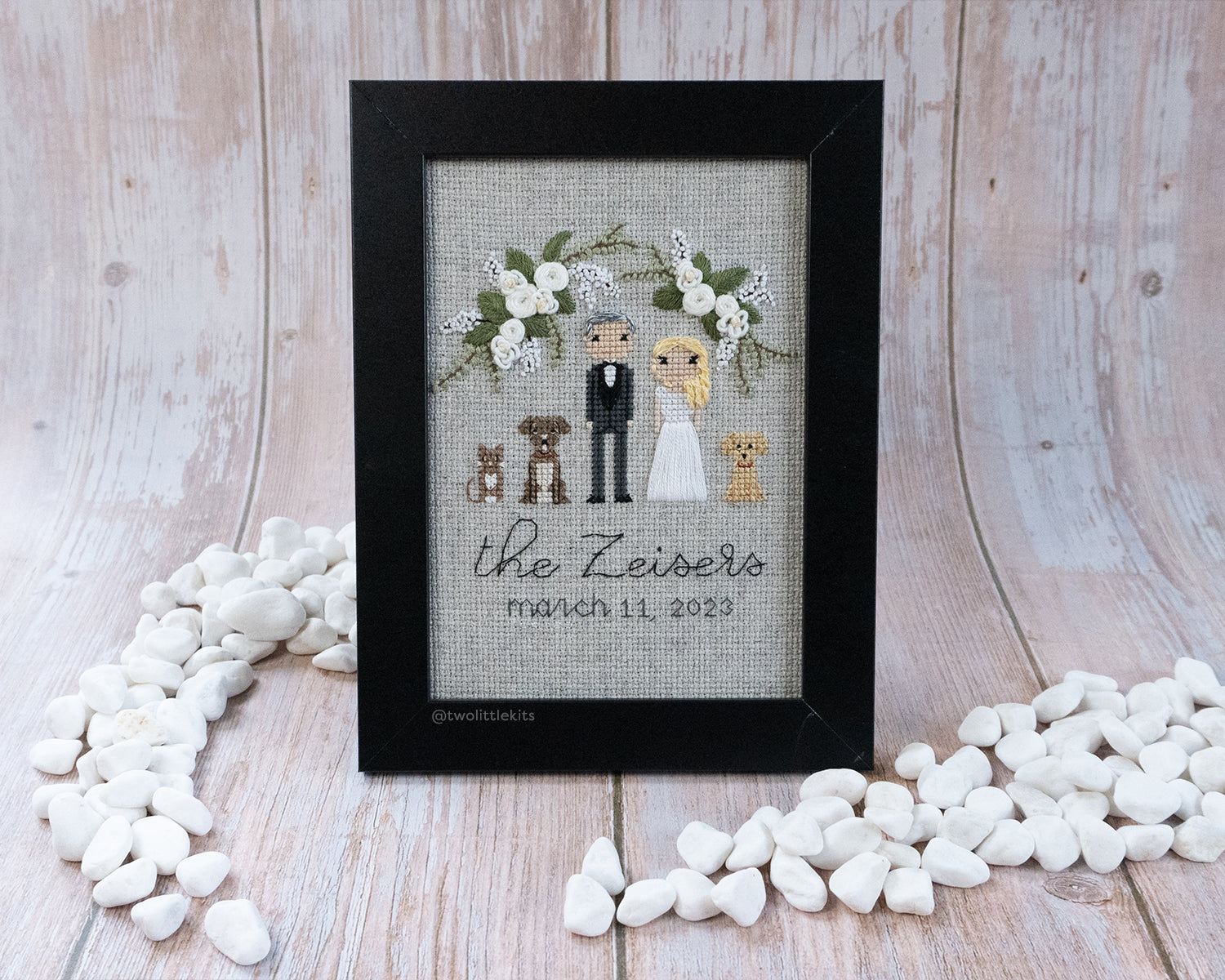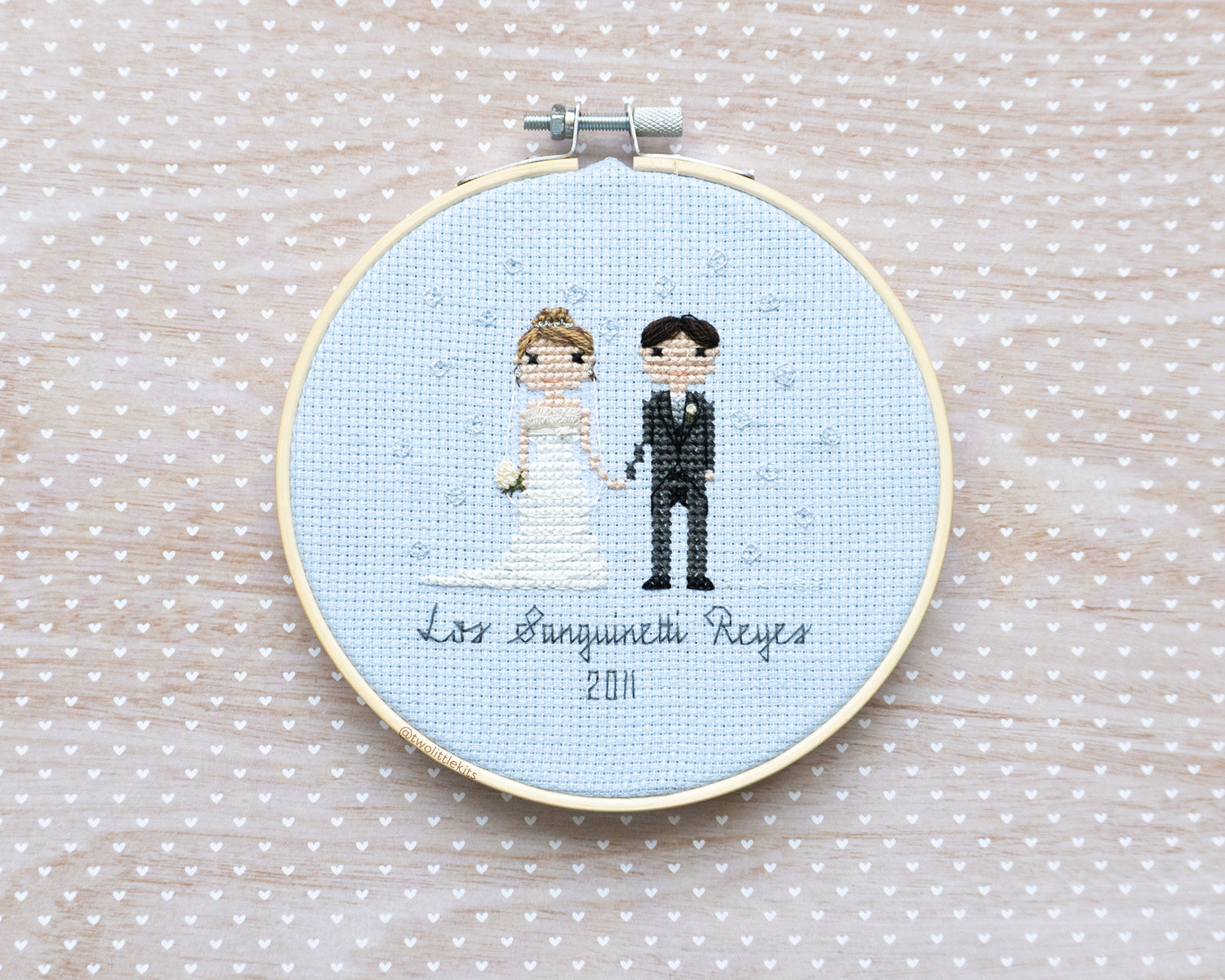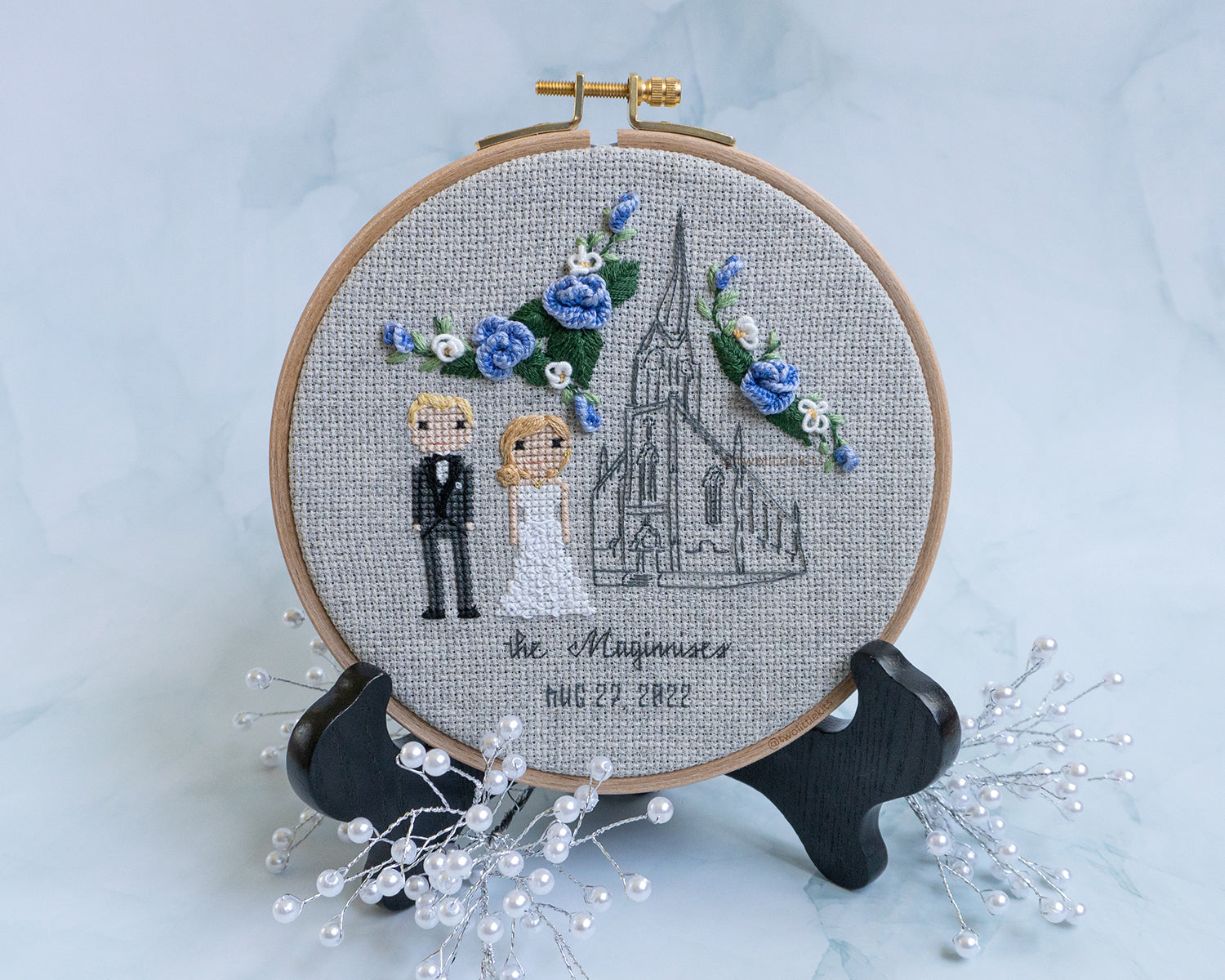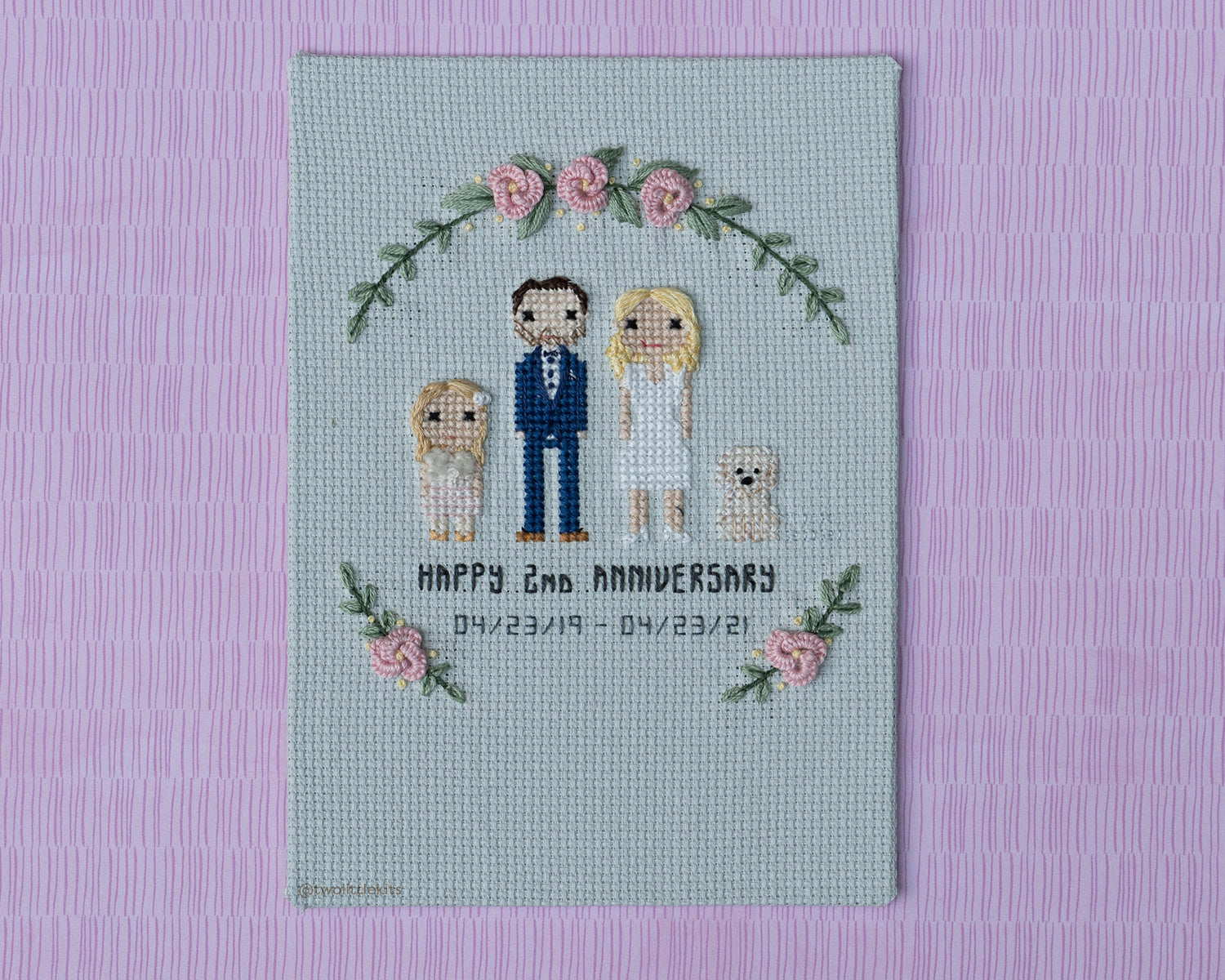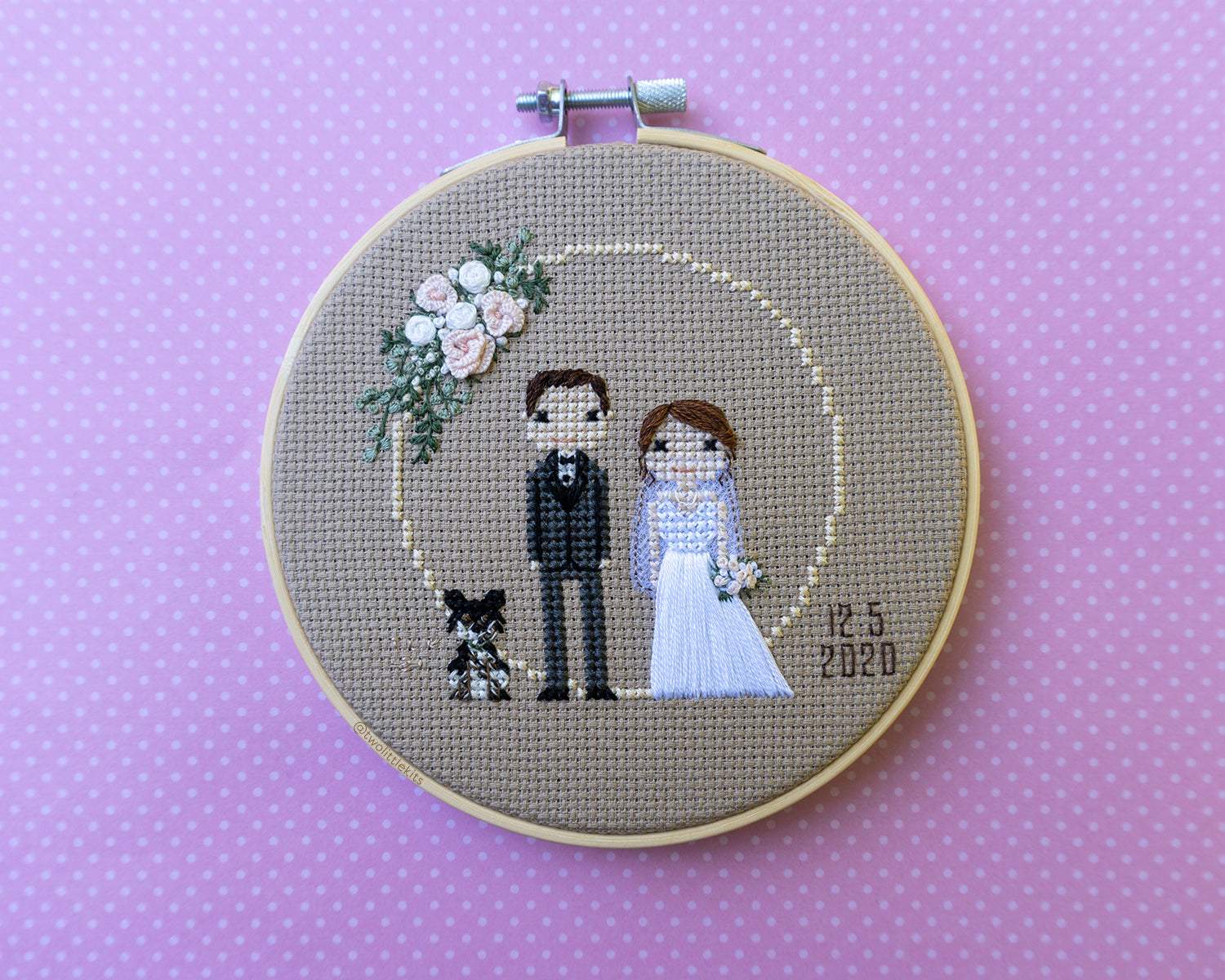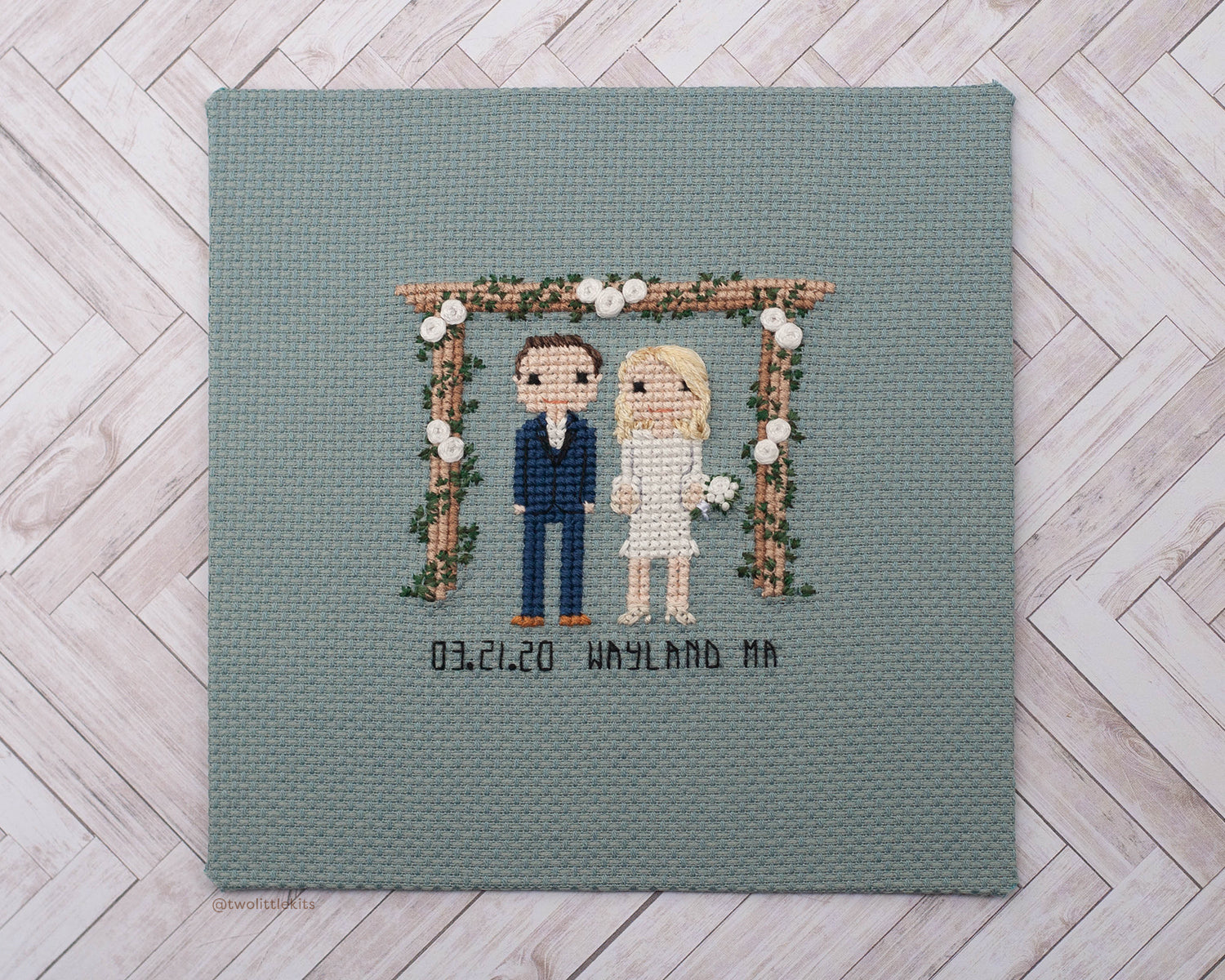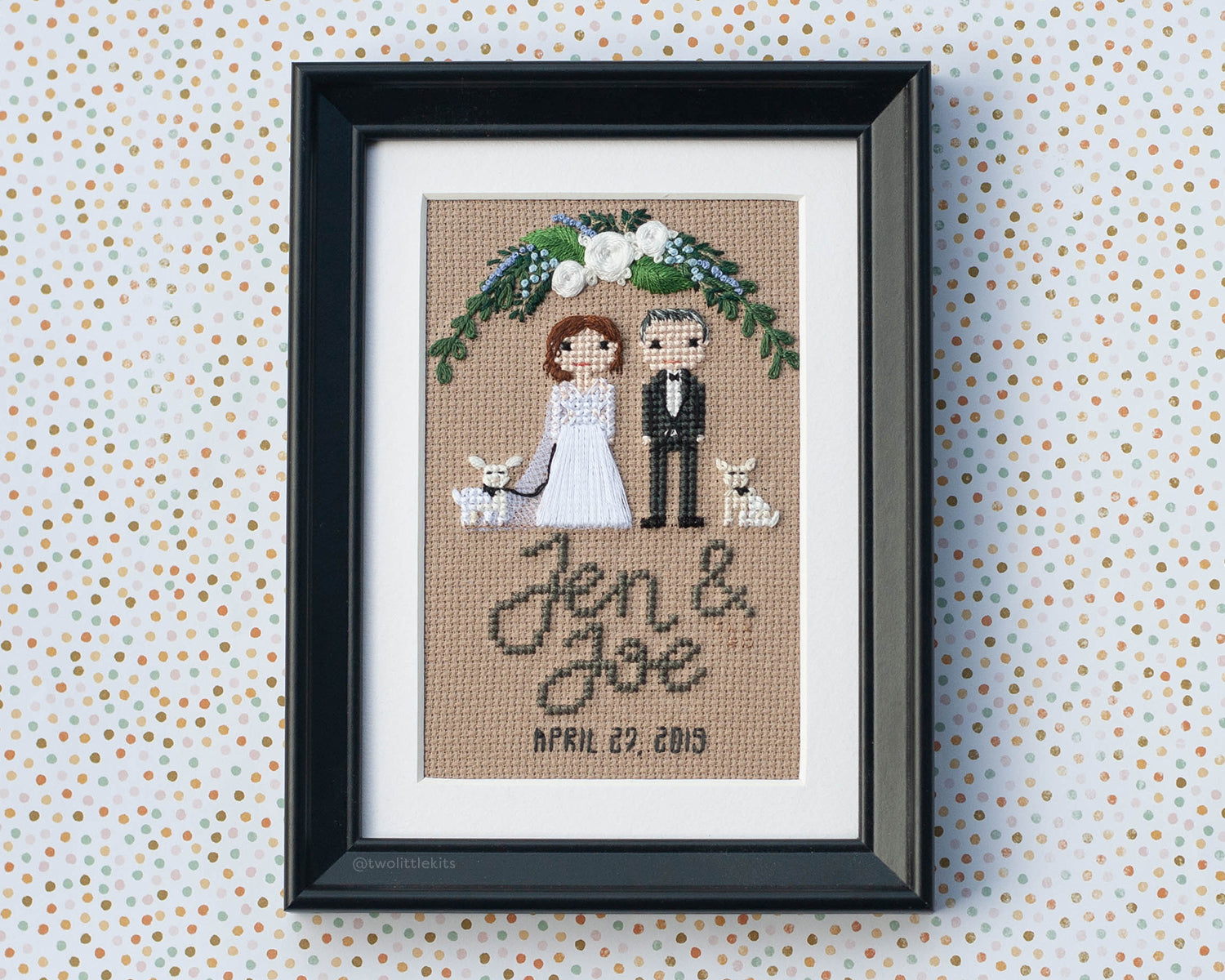 Custom Cross-stitch - Wedding Portrait
Regular price
$115.00 USD
Sale price
$115.00 USD
Regular price
Estimated Delivery:Jan 27 - Jan 31

Please note: I cannot guarantee delivery before Christmas 2023.
What you will receive:
A completed, hand-stitched piece, customised to your needs and based off your imagery and description. It will be finished either in an embroidery hoop or mounted on a board, ready for framing.
2 people are viewing this right now
Description
Information
How to Order
Reviews
Refunds
One-of-a-kind, handmade family heirloom.
Not sure what to get a lucky couple who possibly has everything they need already, for their wedding present? Look no further - I know just the thing.
This listing is for one custom, hand-stitched, cross-stitch & embroidered wedding portrait piece. You'll receive a finished portrait of up to 6 total characters. This is perfect as a 1st- or 2nd-anniversary present gift ('cotton' in UK or US respectively). This also makes for a wonderful, commemorative wedding gift (especially if you've had a sneak peek at the outfits for the day!) as well as a treasured present for an engagement celebration.
You'll receive a piece that is tailored specifically to the characters and decorated with additions of their special day. For example;
the beautiful building they were married in

the floral arrangements they have

even including the pets that had to -unfortunately- miss out
Have a look at some of my previous work above. Also on my Instagram page for ideas and inspiration from other cross-stitch pieces.
I cannot wait to work together to make a gorgeous piece of artwork with you for this wedding present. I've made a lot of these pieces and every single one is just as special as the last..!
Helpful info:
This listing is for one custom, hand stitched cross-stitch finished piece. You'll receive a finished ornament which is perfect as a gift for any holiday occasion or just as a piece for yourself in your own home!
The base piece that you choose is either 1-2 characters or a building outline. From there, you can choose to increase character number or upgrade to a cross-stitched building.
Conditions
A pet (no matter what kind) or baby are considered a character.
There is no design review for this product so being descriptive as possible about what you want is required.
Unless discussed prior, the delivery timeframe for this will be before December, 2022.
Extra Information:
Every custom piece is hand stitched by myself to your specifications using either a sparkly DMC light-coloured Aida fabric or a bright white Aida fabric -depending on stock- at a 14ct with DMC embroidery floss.
Each piece is finished in either a 3" or 4" embroidery hoop depending on the number of characters.
How to Order & Next Steps
Read and confirm this item is the correct thing you want. I don't want you to get the wrong thing!
Select the details of the piece; number of characters, and the style of the finished portrait.
Attach helpful photos of the people/pets/etc to accompany your order.
Check out safely and securely with Shopify!
You will receive an email with additional information about your piece, such as;
➢ ETA confirmation of your piece.
➢ Asking what text you might like added.
➢ Any other needed information not conveyed by photos.
Once everything is discussed, I will begin designing the pattern. After this is completed, you are entitled to one round ONLY of review of the design. Comments of things to keep in mind are included alongside this.
Stitching your piece will occur after I either get the "all clear" regarding the design, or after any/all changes/additions are completed.
Let's make something beautiful together!
Refund Policy
If you have a change of heart within 48 hours of ordering, you are entitled to a full refund.
After that and before stitching has begun, you are entitled to a refund of 75% of the price paid. This covers the time I have spent on design and administrative work.
After stitching has started, refunds will not be issued. You will be notified as stitching begins if you would like this information.
If there is a problem with your finished piece (ie: it is missing something, there is a spelling mistake, etc) a few things can happen:
If it's fixable, you will need to ship your piece back to me so I can rectify the problem.
If it's not fixable, you will be eligible either for a new piece at the same dollar value or store credit for the same dollar value.
Reviews
What have previous customers said about their pieces?
I ordered a custom wedding gift for my best friend and I am over the moon with the results! You listened to exactly what I wanted and your vision is beautiful, thank you!
Kate was amazing to work with, offered thoughtful suggestions, completed my project early and hand delivered to help me meet a very tight deadline, my wife absolutely loves her gift. Thank you!!!
Kate's attention to detail on my wedding portrait was STUNNING. Check out that detail stitchwork on the flowers and boutonniere! The dress, the veil, the leaves, the hair... she even got my earrings. Astonishing. A+, definitely recommend for a lovely anniversary gift.
Kate worked with me to create a beautiful portrait of my non-traditional wedding/elopement. The details are incredible, right down to the teeny, intricate fireweed blossoms — my husband and I love it.
I purchased this as a wedding gift, seriously amazing, unique and the perfect gift!!! I absolutely adore everything about it. 😍😍 Communication was fantastic and she caputured every little detail, even their tattoos, super awesome!! Shipping was pretty quick as well, for it being a custom piece. A+ I will definitely be get more pieces made in the future.