Amazing work! I am so happy with my piece and Kate's wonderful to work it.  My stitch family came out so realistic with all the details that she puts into her art.  Thank you so much!
Great communication, beautiful work and quick turn around. Highly recommend!
My piece came out truly adorable! It was everything I had hoped for. Two Little Kits [was] extremely responsive, prompt, and kind. I was able to have this piece made last minute and it arrived just in time for Christmas. Thank you!! 💚💚
Kate is great to work with and produces lovely work that become treasured keepsakes. She is very responsive and takes all the little details seriously - thank you Kate!
Amazing work! I'm so impressed with the end result as well as Kate's communication throughout the process. She created a very special piece of art that will be displayed in our home for years to come! Highly recommend!
I ordered this as a gift for my best friend, and it came out perfect! The owner of the shop was super receptive and responsive to feedback and collaboration on the design. my best friend LOVED it! Such a great gift idea :)
I commissioned this amazing gift for my mom for Christmas! Words can't describe how much she LOVES it! The level of detail is absolutely mind blowing and I can't recommend twolilkits enough! Thank you SO MUCH! You can bet I'll be recommending twolilkits o anyone looking for unique gifts :)
Kate created an absolutely adorable family portrait that perfectly represented my little family, right down to my baby's favorite lamb hat. The quality of the work, and the attention to detail is truly remarkable. The portrait now sits on our mantel and has received numerous compliments from guests. I whole-heartedly recommend Two Little Kits!
It's just perfect. She worked with me to create an amazingly detailed piece that perfectly captures our family. A+ communication, turn around time and shipping. I couldn't be happier.
Kate made my husband's father's day gift, and it was so perfect. She captured our family beautifully, and it was super fast to us. 10 Stars, highly highly recommend. She works hard to make sure it is as accurate as possible, right down to the color of my daughter's glasses and the bow tie on our dog!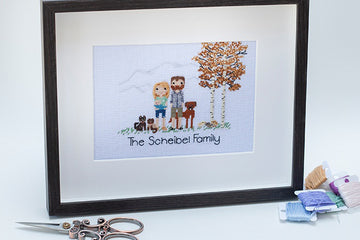 "I purchased this as a new baby gift for my sister-in-law. It is AMAZING and so so cute. I just gave twolilkits some pictures and an idea of what I wanted and what I received definitely exceeded my expectations. There are a lot of super small details added that really make the portrait feel unique and genuine. I love what was done with all of the colors, very creative."
- Faith
Get your own
We purchased a Stitch family ornament for our Christmas tree last year and loved it so much that this year we decided to get one as a grandparent's gift. It recently arrived and I'm so excited to show it off! I love the detail that Kate stitched into each child's hair and clothing so it is easy to tell who is who. I cannot wait to see the look on my parents' faces when they open it on Christmas morning and I'm sure it will become a new family favorite. Thank you Two Little Kits!
Kate did a fantastic job on our 2022 family ornament! It's such a special and unique piece and I'm excited to add it to our collection of family ornaments. I'll definitely order again in the future. Thank you Kate!!
Kate's ornaments are a holiday delight! Every time I see it I smile. Every guest who notices it lingers admiring it. I am beyond thrilled.
We love the ornament that we bought for my FIL.  The amount of detail that Kate is able to provide in her work is amazing.   I'm so impressed and so easy to work with.  I will definitely order another custom piece in the future.  
I ordered a Christmas tree ornament stitch portrait of my family and absolutely love the result! The detail is incredible and it's the new centerpiece ornament of our tree. Thank you for creating a new family heirloom for us to cherish for years to come!
The ornament of our family is AMAZING! The little details on our clothes, the wreath and mistletoe are so perfect, and Kate absolutely nailed the coloring of our dogs. I was just thrilled when I received it in the mail and it went straight on the front of our Christmas tree!
I ordered a custom wedding gift for my best friend and I am over the moon with the results! You listened to exactly what I wanted and your vision is beautiful, thank you!
Kate was amazing to work with, offered thoughtful suggestions, completed my project early and hand delivered to help me meet a very tight deadline, my wife absolutely loves her gift. Thank you!!!
Kate worked with me to create a beautiful portrait of my non-traditional wedding/elopement. The details are incredible, right down to the teeny, intricate fireweed blossoms — my husband and I love it.
I purchased this as a wedding gift, seriously amazing, unique and the perfect gift!!! I absolutely adore everything about it. 😍😍Communication was fantastic and she caputured every little detail, even their tattoos, super awesome!! Shipping was pretty quick as well, for it being a custom piece. A+ I will definitely be get more pieces made in the future.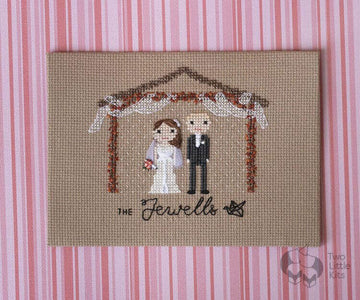 "Kate's attention to detail on my wedding portrait was STUNNING. Check out that detail stitchwork on the flowers and boutonniere! The dress, the veil, the leaves, the hair... she even got my earrings. Astonishing. A+, definitely recommend for a lovely anniversary gift."
- Elisabeth
Get your own