Hello! I'm Kate. Thanks for visiting! I'm glad you're interested in my work and my website.
From a very young age, I was exposed to creating handmade things. My mum was -and is- very crafty and as soon as I showed interest in creating things too, she jumped on the opportunity.
It actually did begin with cross-stitching. I would work on these teeny little patterns you could complete within a 4" hoop (mostly of flowers). At the time, I didn't appreciate how quickly I picked up the skill since I was a pre-teen, but it never left me.
For a while I dabbled in brazillian embroidery which I actually won ribbons for at my local annual show a couple of times.
If you're interested in finding out when patterns are released, updates on patterns you have purchased or just staying in the loop of Two Little Kits news, sign up for my mailing list. It will only be the occasional email so don't worry about me filling your inbox!
If you would like to read more about me, you can do so via the blog post: "Know your Needleworker". It's full of "what is your favourite X" type of questions!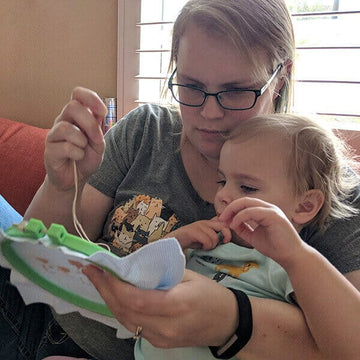 Stitch People Podcast
Episode description:
If you ever hope to meet Superwoman – today's the day! How does she do it? Kate Anderson keeps so many plates spinning in her life, and still makes time to stay creative with her cross-stitching, embroidery, font/alphabet design, and stitch-alongs! Prioritizing her mental health, and executing tricks to keep herself accountable and focused, Kate clearly has a knack for organization and a very (impressively) large heart.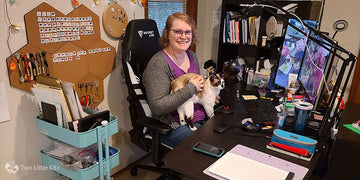 Getting ready to teach a bunch of people online about fonts back in Nov 2020!
Personal FAQs
When did you start learning needlepoint?
I began learning how to cross-stitch when I was about 8 years old. My mum taught me while I used a tiny little kit of a red flower (if I recall correctly!). When I finished it, I gifted the piece to my mum as a Mother's day present.
After taking a long break, I picked up hand embroidery at about 13 years old when I learnt brazilian embroidery with my mum. I even entered some pieces into local fairs' competitions and won some ribbons for my work!