Welcome to my work! I have spent many hours of my life creating these beautiful, one-of-a-kind pieces of art for my wonderful customers since early-2018. Although sometimes it's tricky, I've loved every minute of it and hope to continue making these cherished pieces of history for many years to come.
If you like what you see here, I encourage you to place an order as these pieces can take many weeks to complete. Especially if you are thinking of gifting a piece (and trust me - these make wonderful gifts for your loved ones)!
Enjoy the scroll and I look forward to [hopefully!] hearing from you soon about an order.
Need some assistance?
Helpful Information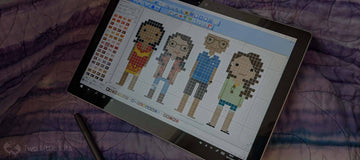 So, you've decided you'd like to place an order for your very own stitch people...
Read more
May 27, 2021
Your post's title
Your store hasn't published any blog posts yet. A blog can be used to talk about new product launches, tips, or other news you want to share with your customers.
Read more