Information
Print on Demand - Why my merch & apparel takes a bit longer to ship
by Kate Anderson on Jun 16, 2023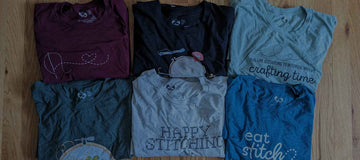 What exactly is "Print on Demand" (also known as POD)?
Print on demand merchandise and apparel is exactly what you probably think it is, based off the name: It is when an item is not printed/created/generated until an order for it has been placed. Once the order has been placed, the blank item (for example; a plain t-shirt) is picked out to match the order, customised with the appropriate design and is then shipped to the customer.
Print on demand allows me, as a self-employed artist, to offer you customized, stitchy-themed products that are created and shipped only when you place an order. This eliminates the need for me to maintain and house an inventory and enables me to focus on bringing your unique creations to life.
Downsides to Print on Demand.
I can already hear you asking "but wouldn't it be better to have everything ready to ship?". Yes; it would be ideal if I had stock on hand of my merchandise and apparel, so that I could ship it out when an order was placed.
I have weighed the pros and cons of offering merch & apparel in my shop for a long time now, and although this is a big deal to a lot of shops, for me and my little shop, right now, this is not a dealbreaker. I would rather offer these products than not have the option.
The Benefits of Print on Demand.
So if the downside is slower shipping times, what are the pros of POD merch & apparel? Great question! I see numerous positives with going down the Print on Demand route. Let's dive in:
Flexibility and Creativity: With print on demand, I have the ability to bring my stitchy ideas to life. Whether I'm looking for custom-designed t-shirts, bags, or stickers, the possibilities are virtually endless. And trust me - I have some really cool designs on interesting items coming soon..!
Low Risk and Cost-Effective: As I'm sure you can imagine, starting a business or creating personalized products can be costly. However, with print on demand, I can offer you low-risk options without the need for significant upfront investments. This allows me to provide you with quality products at affordable prices.
Scalability: As a self-employed artist, I understand the importance of being able to scale operations as demand increases. Print on demand platforms enable me to adjust production based on your orders, ensuring that you receive your products promptly, without me having to worry about storage limitations or fulfillment challenges. This is a big deal for me, as

I don't have a separate working space for my business, and
The space at my house doesn't allow for inventory and stock (that might not even sell!)

Reduced Waste: One of the things I appreciate about print on demand is its focus on sustainability. By producing items only when they are ordered, we can minimize waste and reduce our environmental impact. It's a win-win situation, allowing you to enjoy custom-made products while contributing to a greener future.
What do you think?
Print on demand has been an awesome opportunity for my little business, allowing me to offer you unique, custom-made products without the burden of inventory management or high upfront costs. While longer delivery times may be minor trade-offs, the advantages of flexibility, low risk, scalability, and reduced waste make print on demand it an excellent choice for your future order right here on my website!
---
Leading photo is six of my available t-shirts, four of which (at the time of writing) are coming soon..!