Palette
Colour Palette - April 2020
by Kate Anderson on Apr 30, 2020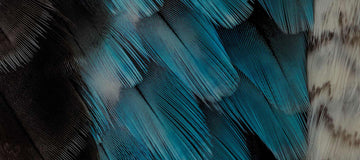 Let's make a new palette of colours!
Yeah, a March swatch palette didn't happen. COVID-19 did, which included me being thrown into the deep end of being full-time homeschooling parent, therapist, special education teacher and numerous other hats I don't wear. So, I'm attempting to get back to it now, starting properly with May.
Each month, I am taking a photograph I quite like aesthetically and choosing a colour palette from it. Then from there, taking those colours and converting it to DMC flosses. Again, just in case [legal reasons and yada yada]; I'm not endorsed by the company DMC, I just love the quality and options provided.
I really love the website Unsplash for high-quality, free-to-use, random stock photos (hence why I'm constantly referring back to the artist of whichever photo I do use!) so let's keep it going with making a DMC palette from another gorgeous photo via there?
So now we have our colour scheme, let's convert these RGB colours into DMC colours!
| RGB | DMC |
| --- | --- |
| 30, 116, 139 | 3765 |
| 41, 151, 166 | 995 |
| 126, 230, 242 | 3766 |
| 216, 211, 194 | 453 |
| 139, 122, 106 | 646 |
Muted, soothing, monochrome palette.
I love this pop of colour amongst cool greys. The photo itself is beautiful but as a colour palette, it's giving us a great range to work with!
So keeping in mind there 16,777,216 different available colours when using the RGB scale ( 256×256×256) and only 500 colours in the DMC selection, sometimes getting the absolute perfect colour can be a bit tricky. Sacrifices and allowances must be made.
But looking at these colours together, I think this would make a lovely palette. What kind of things can you see yourself making from these colours?