Patterns
Latest Cross-Stitch Pattern; 'Survived 2020'... and you can customise it yourself!
by Kate Anderson on Jul 01, 2020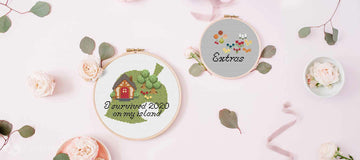 (This is a legacy post and includes outdated information and links.)
---
Introducing a new format; an optional, customisable pattern!
I can't remember what made me decide to trial a pattern that you could DIY, but since I like to trial new things (whether they flop or not!) I just had to give it a go.
Since it was released in mid-March this year, I've been playing a lot of Animal Crossing: New Horizons. It's been the perfect cure for my mental health, dealing with the coronavirus pandemic. An escape, cute villagers, happiness, no violence (except those dang tarantulas and scorpions!) and easy to put down if need be. What more could a SAHM of a special-needs 5yo and an extroverted 3yo need? Especially while we were in a tiny LA apartment.
Design process
I'd been mulling over what kind of Animal Crossing pattern I might like to design (after my initial "Oh duh I should do that" moment) and during, I decided to mess around with general elements of the game - fruit, trees, etc. Then the house evolved (the initial house you get before upgrading it in game) and it's bushes/letterbox, and other bits and pieces.
Then the idea of so many people using Animal Crossing the same way I had been -to escape real life- came to me.
Hence, that's where the " I survived 2020 on my island" came from.
But, I'd already done all these other elements (flowers and fruit) but I didn't want to have them go to waste. So what better way to make use of them than to setup a design that you could use these elements to fit into your own island design?!
I use Gumroad for processing all my pattern orders that are sold through my website and creating a product that had different options (where you can get certain files or not depending on which option is picked) is super simple. So whether someone wants the basic pattern without doing any edits or if they want to make it their own and grab the extras (which includes a copy of Harriett!) they can easily choose!
What are the extras?
So the extra bits and pieces you get when you order the customisable version of the " Survived 2020" pattern are:
A 'blank' version of the original pattern - this doesn't have the writing or the roses on it
All 8 flower types using their seed colour options. Feel free to experiment!
All 5 tree fruits to add to your trees
And as mentioned, a copy of ' Harriett' - the font used in this pattern
So what are you waiting for? I know one person who's not only bought their copy of the pattern, but they've already stitched the house section! I can't wait to see their progress - and yours as well.
---