Finished Pieces
Recent Piece - The Myers' Family Portrait
by Kate Anderson on Jan 18, 2023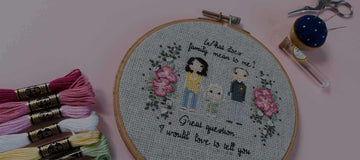 (Yes; I am skipping ahead a little with these portrait posts. But that's because I am just beside myself with this piece that I can't wait to share it in detail!)
---
Background Info
If you haven't heard of Elyse Myers before, then I'm happy to introduce you to a wholesome, neurodiverse-safe, crazy-IRL-story-telling, relatable, all-around-awesome person. I've been following her account (not only on Tik Tok but on Instagram too) for about a year now. She became very well known on social media after sharing a crazy story she lived that involved a first date and 100 tacos.
Her content has [surprisingly] been a welcome, important part of my life in a small way, as she shows the world that it's OK to be authentic, different and kind through her videos. I can't imagine how crazy her life has been over (I think?) the past... 18 months? It must be wild.
Anyway. Because her content tickles me, makes me feel less alone and is just generally enjoyable, I decided about halfway through 2022 that I wanted to make her and her family a stitch people portrait.
Therefore, I made this:
---
Let's see some details
I feel like there is so much to share with this piece when it comes to details, so bear with me. I have contained myself though, so you don't just see the same things over and over, just at different angles — lol!
What is that stitch?!
I might be obsessed. Yeah, I said it.
These pink flowers are one of my newest obsessions with hand embroidery. It consists of two different stitches, and one of the stitches is done in two different ways. I hope that makes sense..?
The two stitches are:
Buttonhole stitch, and
Cast-on stitch
and I am 100% planning on doing a tutorial on how to do both stitches and this flower. Once I finally get my butt into gear and do video tutorials that is 🙈 - lol!
---
Elyse Myers & Family Piece
I know I've said it before; I try not to have a favourite when it comes to the portrait pieces that I make, but this is definitely my current favourite. Sorry, not sorry! 🤣
Before I re-started the florals for this piece, I was really unhappy with how this piece was turning out. The other thing I actually redid (that I didn't document with a photo) was that I stitched the entire question lettering, I did it in a lighter grey rather than black. And you couldn't see it properly.
So I cut that out and redid it in DMC-310 and although I prefer to do my wording not in black, in this case on this fabric colour it definitely was the right choice.
So with those two major changes, I rediscovered my love for the piece as a whole. Which is just as important to me as the recipient loving the piece! If I don't love it, then I must be doing something wrong.
---
Final Thoughts
At the time of writing this, I don't know if the piece has been collected from her PO Box (assuming I sent it to the correct address!) but as it's been about a month since I sent it, I'm beginning to "let go" and be OK with it being a mystery, basically. I have reached out to her to make sure it arrived but given how many followers she has and the number of comments/shares/likes/etc she receives on her social media accounts, it isn't a surprise that I haven't heard back 😘 .
I would love to know what you think of this piece! Would you enjoy learning how to stitch florals like this? Do you follow Elyse? Is it cool to see my work-in-progress blunders? Let me know in the comments below!