Finished Pieces
It's Teacher Appreciation Week
by Kate Anderson on May 07, 2021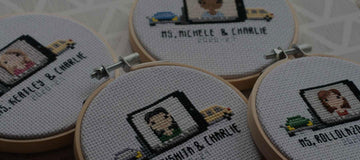 Recent Stitch People Portraits
In North America, it is 'teacher appreciation week' - the first full week in May. As usual, I created my daughter some teacher gifts to say thank you. And after the year we've had, it was absolutely necessary!
I don't generally get orders for teacher stitch people gifts but that's OK - it gives me more time to work on my own gifts!
---
Teachers
My daughter has had a lot of teachers help her this school year. She's also been a virtual student for the entire year, so I wanted to depict that somehow.
My kiddo also is special needs (I've spoken about this a little over on my Instagram) so majority of the time she's participated in school, she requires toys -lots of toys- to help keep her engaged.
So I decided to do the view of her teachers that she's seen all year. Through her school iPad, surrounded by toys.
---
Therapists
It was tough to decide to put Charlie into in-person therapy for OT and ST but I'm so glad we did decide to. We quickly learnt that virtual learning was not her cup of tea so giving her those in-person sessions has helped keep her growth continuing at least developmentally.
Therapists are often overlooked when it comes to teacher appreciation week because they're not labeled as such. But these two lovely women have helped my daughter so much over the past 9+ months. I'm so thankful and making a gift like this is the least I can do.
---
---
I hope those of you who have teachers and therapists in your lives got a chance to say "thanks" for all they do after the year (and a bit) we've all dealt with. It's incredible what they are willing to go through just to help our kids grow, learn and adapt.
I can't wait for this coming September when (hopefully) things have normalised a bit more and both my girls will be back to in-person learning!