Finished Pieces
Today it's Stitch People Day, 2021
by Kate Anderson on Sep 29, 2021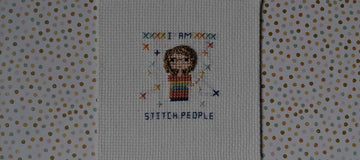 I stitched myself!
Today, for the second year in a row, it is considered by some as "Stitch People Day".
What does that mean?
Basically, we enjoy the little community that the folks over at Stitch People have created.
I've been a part of their Facebook group now for the better part of 4 years and although it's grown to over 10.5 thousand members (at the time of writing this post), it's still a really nice place to be a part of.
I often post photos of my finished pieces in that group for the simple fact that people will always have something positive to say.
It's an awesome group for beginners not only to cross-stitch but to stitch people in general. I don't post anywhere near as often as I used to, but I definitely recommend it as a good place to be.
The aim for 'Stitch People Day' for 2021 was to [loosely] follow a pattern provided by Stitch People themselves that had the element "I am Stitch People" written on it and to stitch yourself. Something that not necessarily everyone has done, if you make them as gifts or commissions only!
It was awesome to take a day break from commissions to make this. Yep - it only took me one day to stitch up! It's also the first time I've stitched myself with my hair not-straight, since I've been learning how to love the curls/waves I naturally have. What do you think?
---