Finished Pieces
Recent Commission - The Bennett Family Stitch People Portrait
by Kate Anderson on Nov 11, 2021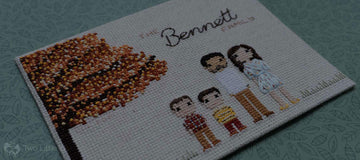 The Bennett Family
Did I go a bit extra? Well… yeah. But was it worth it? Absolutely!
I present to you; the Bennett family portrait! A four-person stitch people cross-stitch & embroidery piece with large, extra embellishment of an autumn-themed tree.
It's arrived safely at its final destination and I'm so relieved. After the debacle earlier this year with USPS misdelivering a portrait of mine (which, I might add, is still an open case and I have not received my insurance money back yet! Grr) I'm finding the sending of my completed projects to me so much more nerve-wracking than any other part of the project.
I've realised I ought to do a wrap up post like this when I complete a finished piece. It'll give me closure and show everyone the process/finished piece properly; give it the send off it deserves, I guess!
What do you think of this kind of news post? Write a comment below!