Patterns
Three New Cross-stitch Patterns Now Available!
by Kate Anderson on Sep 13, 2021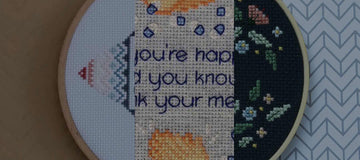 Brand new patterns!
I wrote last month about the fact I found myself with two test stitchers and how amazing that is! Well, they stitched even faster than I could've anticipated and both of them cranked out -in awesome quality!- a pattern each that I had finished design work for and left on the back burner.
Which means I got 2 extra completed cross-stitch patterns on top of the one I had recently completed. So three brand new patterns all ready at once! Say whaaaat?!
Now I know what you might be thinking.
"Wow! Does that mean you will have multiple patterns dropping at a time?"
Dear reader, let me just say this;
Hell no.
I have now learnt -very quickly- that getting multiple patterns ready at one time is so confusing, tricky and time consuming!
So to be clear; this is a once off kind of deal, unless I have a change of heart somehow. Going forward, patterns will be held in a queue (if one needs to exist) and they'll all be released one at a time. Which is probably better, so they all get their time in the spotlight, right?
But anyway, let's see those new patterns!
---
Show me the patterns!
---
Don't forget to tag me in your work-in-progress or completed pieces on social media! My username on any platform is @twolittlekits - easy to remember! I would love to see what you are stitching - not just these three patterns! but any of my cross-stitch or embroidery patterns, as well as my fonts and decor elements.
But most of all; I hope you just enjoy stitching ❤️