Stitch-Along
My First FREE Stitch-along 'Just Breathe' Was Great!
by Kate Anderson on Sep 25, 2021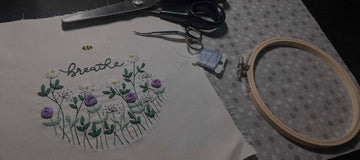 You did it!
It's been a bit over a week now since my most recent stitch-along; Just Breathe was completed but I felt I needed to write a wrap-up post about how it went.
Over 9 days, we went from having all our materials at the ready, to completing an adorable, cute, somewhat complex embroidery piece. And you did that all by yourself (with a little guidance, but that doesn't count!).
In case you missed the live stream of the stitch-along, here's the playlist of it, so you can see what you missed out!
---
What did you do?
Between September 7th to 17th, we set up our hoop by learning how to transfer an embroidery pattern from paper to fabric, we learnt how to do the basics like thread our needle and tie a knot at the end of the thread properly (and easily), we utilised 8 basic embroidery stitches to complete our piece and we learnt how to complete our finished piece by framing it in a hoop with a pretty hoop butt.
Curious as to which stitches we learnt? Head over to the Just Breathe shop page to get more information.
---
Actual feedback from participants!
A very fun SAL! Kate's passion for all things stitchy shines when she teaches her classes. She really goes above and beyond in explaining how to start the process from beginning to end. Her classes are perfect for those just starting out in embroidery or for those that are embroidering every surface they touch. I always learn something new when I stitch along with Two Little Kits.

- Anonymous
Thanks for the great stitch-along Kate!

- Anonymous (via IG)
You are so good at these! Love them.

- Anonymous (via IG)
---
What is next?
I'm going to be taking a bit of a break from stitch-alongs to reassess how I want to hold them, promote them and handle them. They're a lot of time investment and the return of that investment is not what I anticipated/hoped for (I talk about this a bit more in-depth on my latest FlossTube video).
Of course, you can always grab another one of my embroidery patterns in the meantime if you're itching for something else to stitch. As of the time of writing this, all of them have a stitch-along pre-recorded that you can watch!