Stitch-Along
A bit rocky, but my second stitch-along went well!
by Kate Anderson on May 10, 2021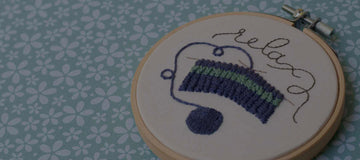 Let's Relax
I'll be honest - I'm not entirely happy with how my live-stitched version of this pattern came out. That doesn't mean that I'm less pleased with the pattern itself, as well as how the live event(s) went!
A short and sweet 3-day stitch-along, my Let's Relax embroidery pattern went smoother than the start of my first one. Even though everyone watching was fairly quiet, I'm going to take that as a sign they were too busy enjoying the process of stitching and not needing to ask any questions!
In case you missed the live stream of the stitch-along, here's the playlist of it, so you can see what you missed out.
---
What did you do?
Over the short-but-sweet 3 days, we set up our hoop by learning how to transfer an embroidery pattern from paper to fabric, we used 4 different embroidery stitches and we learnt how to complete our finished piece by framing it in a hoop.
Curious as to which stitches we learnt? Head over to the Let's Relax shop page to get more information.
---
Step by step
---
What's next?
I currently have a commissioned finished piece to work on but once that's done, I already have my next stitch-along design in place and ready to be stitched! If you follow my Instagram account you'll have seen a sneak peek at it earlier today.
Of course you can always grab any of my cross-stitch patterns in the meantime if you're itching for something to do. A lot of them are PWYW pricing, so there's no excuse!