Stitch-Along
I'm holding my first stitch-along for 'Simply Florals'
by Kate Anderson on Mar 29, 2021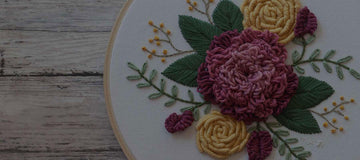 You're doing embroidery now?
Yes! I've been a bit nervous about beginning my journey into making embroidery patterns but I decided at the start of the year that I wanted to be braver (amongst other things)! I couldn't put a finger on what was really stopping me from making embroidery patterns, so I got brainstorming and here we are!
What the heck is a "stitch-along", anyway?
I'm so glad you asked this first! (😜) A "stitch-along" or SAL for short, is when someone live streams themselves stitching a certain pattern that others who have [ideally] bought the same pattern join in and stitch it along with the caster! It's a fun way to build a community of fellow stitchers while all completing a goal together.
How can I join the SAL?
It's easy! I will be streaming myself creating [again!] this pattern; "Simply Florals" from the very beginning of preparing your fabric to the end, by finishing your hoop (and everything in between, obviously!). It will be streamed through my Instagram account starting this coming Monday; April 5th, 2021 at 2pm PDT. Click here to find this in your local time!
The live sessions will run Mon-Thu until we're all done! I don't expect to take longer than 2 weeks but this is the first SAL I've ever held, so let's figure it out together, shall we?
Do I need an Instagram account to join in?
I got asked this yesterday via email and I'll be honest - I actually don't know..! I just wanted to mention that it is free to make an Instagram account if you are wanting to join in on the fun and you can set it up to send you zero emails and basically be non-existent outside the SAL. That's if you find when you try to watch live and it requires you to make an account, that is!
What if I want to join but can't make it live?
That's no problem! After the stream is done, I will be uploading the session to my Instagram channel (it will be in 15 minute increments, as my Instagram account isn't "big" enough to do longer videos).
So you can check it out at your own leisure, or even go back and watch it again!
Just note that if you don't join live, you won't be able to ask questions or make comments in real time to the video.
I am hard of hearing. Will there be closed captions?
Unfortunately, Instagram doesn't natively include live closed captions with their streams. However, I will be adding closed captions on the upload I post after the live event! I am Australian though, so I am unsure how well the captions will hold up deciphering my accent. It might make for a hilarious viewing.
You can always ask me questions if it does mis-translate what I've said ❤️
What else?
Do you have any questions that I haven't covered here? Please reach out to me or leave a comment below. I'm excited (and nervous!) for Monday. I cannot wait to see your works-in-progress and especially finished pieces. Please tag me on Instagram (or Facebook or Twitter!) so I can see. Squee!